This year it's gonna be a year full of surprises for the comic fans...Lots of movies coming out ( Robocop , 300: Rise of an Empire , Captain America, Spider-Man 2 , X-Men, Transformers and Sin City) and most of us can't wait to watch all of them...
Most of these movies are already known by everyone cause many of them are sequels or they have produced many times at the past.
All of them except one...
The Guardians of the Galaxy...
For most of the comic fans the Guardians of the Galaxy is a team that they know very well...
We spend hours and hours reading about their stories and adventures in our comic books and we are very familiar with them.
But the truth is that most of the people who they are not comic fans they don't really know who the are. And this make this movie the biggest risk in the whole Marvel history and as a fan this makes me very happy. It's amazing to see a company like marvel to take risks like these cause I believe all of us we really deserve it.
Let's now found out who they really are...

A group of heroes who opposed the Phalanx conquest of the Kree system (and many who had opposed Annihilus incursion into their universe), and banded together in an attempt to prevent any further catastrophes from ever occurring.

On the recommendation of ally Nova, the group establishes a base of operations at the space station Knowhere, which possesses a teleportation system with near-universal range. An intelligent, super-powered dog called Cosmo acts as Knowhere's chief of security and works closely with the new team.

After an initial clash with the revitalized Universal Church of Truth, the team's investigation of a mass of "Limbo ice" reveals a semi-amnesiac man who identifies himself as Vance Astrovik, Aka Major Victory of the Guardians of the Galaxy of Earth-691. Astro's declaration inspires the as-yet-unnamed team to adopt the "Guardians of the Galaxy" name for their own.

The team then battles the Universal Church of Truth once again, while Astro is attacked aboard Knowhere by an incarnation of his former teammate Starhawk Matters worsen when the alien shape-shifting Skrulls apparently infiltrate Knowhere, and the revelation that Star-Lord directed Mantis to telepathically coerce the heroes into joining the team.
The team
Starlord
Peter Quill, alias Starlord was born during an unusual astronomical phenomenon when many of the planets aligned. Seeing no resemblance, the man who believed he was Quill's father angrily accused his wife Meredith of infidelity and attempts to kill the infant, but died of a sudden heart attack. Quill was raised by his single mother, Meredith.
Quill was placed in an orphanage but escaped and eventually became a trainee NASA astronaut. An alien entity called the Master of the Sun eventually visited the space station that Quill and other astronauts were currently inhabiting, and offered the mantle of Star Lord (an interplanetary policeman) to a worthy candidate, Quill volunteered, but was rejected in favor of a colleague he once treated badly.One day Peter returned home, bruised from trying to stop a bully. As he was washing up for dinner, his mother saw a bright light and two aliens emerged. Vowing to end the '
Spartoi bloodline
', they killed Meredith. After Quill saw the aliens and his dead mother, he panicked and ran. As the aliens pursued, he grabbed a shotgun and managed to kill them with it. He then found a mysterious device in a closet. Seeing a bright light he fled the house, just before the alien ship destroyed it.
StarLord
Quill was outraged, and
NASA
ordered his return to Earth and discharge for his conduct. Peter, however, stole a scoutship, and on returning to the space station took his colleague's place. Quill was then chosen to become Star-Lord, with the Master of the Sun first creating an illusion in which he was able to find and kill the aliens that murdered his mother to free him of his past. Equipped with a sentient vessel called "Ship", Quill commenced his role as Star-Lord.
It was later revealed that Peter Quill's father is Jason of Spartax, the second son of the galactic Emperor who acted as Star-Lord before him.
Star-Lord encountered the former Herald of Galactus the
Fallen One
and was almost killed defeating the entity (Star-Lord's vessel "Ship" was destroyed in the conflict). The pair were subsequently imprisoned in the intergalactic prison the Kyln.
Star-Lord was freed by the hero
Nova
during the
Annihilation
and aided in the war against villain
Annihilus
.
He later acted as military adviser to the Kree general Ronan the Accuser against the invading alien race the Phalanx.
When the
Kree
homeworld of
Hala
was conquered by the
Phalanx
, he led a band of rebels against the invaders until the war was over.
Rocket Raccoon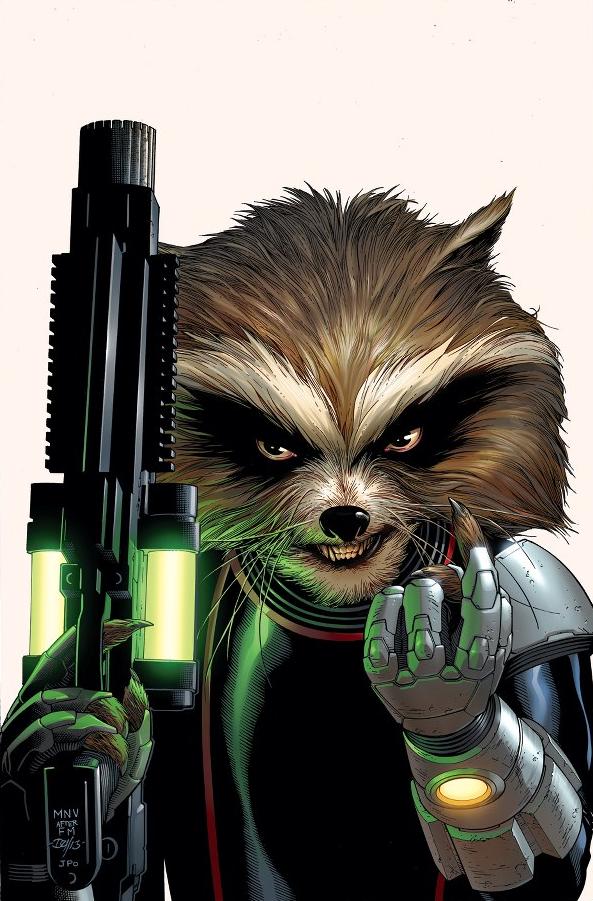 Centuries ago, a group of alien humanoids settled the largest planet in the Keystone Quadrant star system. They built a complex to house and treat the insane, recording their medical observations in a psychiatric diary. When their funding was cut, they abandoned the project, but not before they created a staff of robots to provide for the humanoids. They then separated the quadrant from the rest of the galaxy with an impenetrable force field.

When a nearby star went nova, ensuing radiation gave sentience to the robots, who quickly chafed at the illogical of the humanoids, or "Loonies." Seeking to end their servitude, the robots used genetic engineering to give intelligence and awareness to the animals that had been left as companions for the patients. They charged the animals with the patients' care and protection, then relocated to the far side of the planet, which they proceeded to strip bare through industrial endeavors, one of which was construction of a vast, humanoid spacecraft called Ship. The half-industrial, half-verdant planet became known as "Halfworld."

The animals continued to care for the humans, and the robots provided alot of equipment, weapons, and parts for toys. The psychiatric diary left by the physicians (now known in legend as the "Shrinks") became an indecipherable icon called Gideon's Bible. Toys played an important part in Halfworld society as entertainment for the Loonies. Without toys, the Loonies lapsed into a deep melancholy, so the animals made certain nothing interrupted production. Two otters formed the first toy factory, and upon their death it was taken over by the mole Judson Jakes, who established his headquarters in the Spacewheel space station built by the tortoise Uncle Pyko. Pyko designed toys, weapons, an army of robots clowns, and the batlike Drakillers.
Groot
Groot posed as Divine Majesty King Groot the 23rd, Monarch of
Planet X
, custodian of the branch worlds, ruler of all the shades, flora colossus. Groot is a member of the Flora colossus, a society of sentient trees, discovered by the
Kree
.
In the Autumn of 1960, scientist Leslie Evans and girlfriend Alice witnessed a blinding object falling from the sky. When Evans went to investigate the next day, he not only found the object, but discovered it was alive. Evans looked on as the alien creature, Groot, grew larger by the minute as he absorbed wooden objects into his own body. There in the woods, Groot announced his presence to the nearby community. Claiming to be the Monarch of Planet X, Groot announced that he had come to Earth to take a small Terran town back to his homeworld for its scientists to study. While the humans resisted, no gunfire, or even conventional fire could penetrate Groot's hide. Seeing the futility of trying to fight Groot directly, Evans abandoned the townspeople and raced back to his laboratory, for which he was labeled a coward.
Over the next three days, Groot used his ability to control trees and plants to turn the forest into a make-shift army. His announced intention was to use Earth's native vegetation to create a net of roots to allow him to lift the town into space whole. When Groot entered the town, Evans snuck up behind him and unleashed the fruits of his frantic work: a specially bred colony of termites. The insects voraciously ate through Groot's hide, and into his core. Groot collapsed in a a state of shock, and was believed dead by the townsfolk.
Later, however, Groot was seen alive and captured in
Collector's
zoo beneath Canada. When the
Mole Man
attacked the Collector in his lair, the security in the Collector's zoo failed, and the monsters were released. The stampede of monsters eventually arrived in New York, and were engaged by the
Thing
and the
Hulk
. Joined by the
Beast
and
Giant-Man
, the four heroes defeated the horde of monsters, including
Droom
, Groot,
Grottu
,
Grogg
,
Gargantus
,
Rommbu
,
Taboo
,
Tragg
, and
Vandoom's Monster
. Afterwards, the Hulk hurled all the monsters through a portal and into the
Negative Zone
.
At some point, Groot returned to Earth, supposedly to Monster Isle.
Later, Groot was tracked down and engaged by a unit of the Howling Commandos of
Area 13
, a branch of
S.H.I.E.L.D.
dedicated to tackling supernatural threats through supernatural means. Groot had blended into the surrounding woodland, despite his size, but was ferreted out by
Sasquatch
and the
Abominable Snowman's
sense of smell. The unit -- also including
Gorilla Man
and
Warwolf
-- disoriented Groot with high-pitch sonics and brought him down.
Teleported to Area 13, Gorilla Man informed Groot of his options: either join Area 13 as part of the the solution, or be imprisoned as part of the problem. When a horde of fantastic creatures under the control of Merlin poured into Area 13 through a magical portal, the larger creatures were released from their cells, causing a stampede which crushed many of the invaders.
Arriving in Merlin's territory on the other side of the portal, Groot met up again with the Howling Commandos. Realizing that Area 13 would just catch up to him again if he escaped, and that the landscape had been so warped by magic that it was physically painful to him, Groot has offered to assist the commandos.
Gamora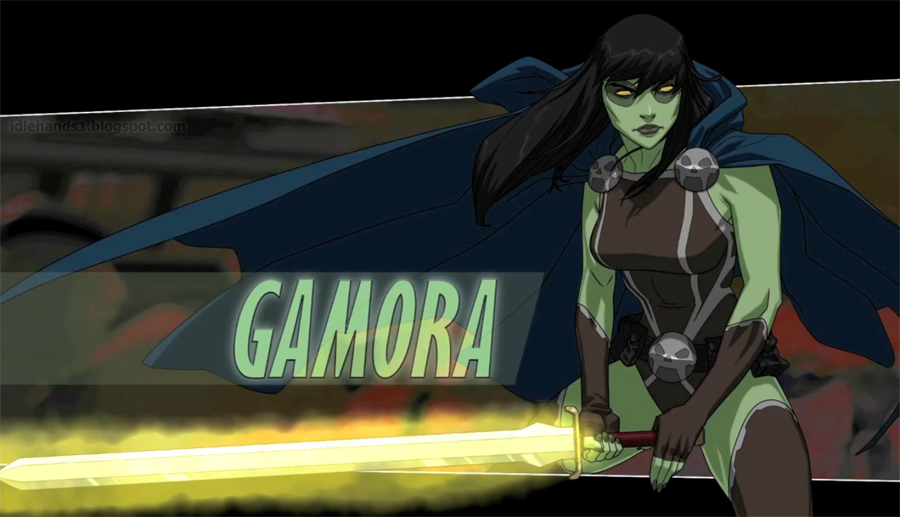 Gamora was the sole survivor of the alien humanoid race called the Zen Whoberis, a peace-loving people whose population were wiped out by a zealous religious order seeking to establish a galaxy-wide empire. Agents of the Church, called Grand Inquisitors, herded the entire population of the planet in to a valley and exterminated them for their resistance. The mad Titan Thanos rescued Gamora and brought her through time to a period at least two decades prior to her people's deaths. Aboard his space station Sanctuary, Thanos raised Gamora and used advanced technology to endow her with enhanced humanoid abilities. He also subtly altered her perceptions so that she would not recognize the evil of her deeds.

Thanos planned to send Gamora to assassinate his enemy, Magus, the leader of the Universal Church of Truth, a warped version of Adam Warlock from an alternate future. She practised for this assignment by killing the Church'sGrand Inquisitors.Thanos decided to train her as a weapon to use against and kill the Magus. Thanos made sure Gamora was raised with discipline, though he did on occasion show her affection as a father would show his child: such as celebrating the religious holiday of Yule. Through rigorous training she would become a highly skilled master of various martial arts forms from throughout the universe. Even though Gamora was learning and becoming a master martial artist, she still had more to learn. While still a young girl, she went on a trip with Thanos. Though explicitly against Thanos orders and warning, out of curiosity she decided to venture planet side. In turn she fell into an ambush set up by a group of thugs. The attackers used their numbers advantage and were able to defeat her in spite of her great skill. She was severely injured in the fight and gang raped. Near death, her proverbial knight in shining armor arrived in the form of Thanos, who quickly dispatched the assailants. Thanos then recovered the apologetic and near dead Gamora. After returning to Sanctuary Thanos restored and augmented Gamora. This was achieved via bionic implants and replacement parts of Thanos' own design. These physical and power upgrades made her an equal to Adam Warlock's own physical abilities. She also received specialized training and abilities including resistance to reality distortion as well as an accelerated healing factor that rivals even Wolverines'. For her purpose was to kill Magus, Adam's evil godlike counter part.

Thanos hoped that the presence of a non-contemporary element such as Gamora inserted into the Magus's present would disrupt his opponent's plans and eliminate the divergence of events that created the Magus from this timeline. Gamora's presence was detected by the Magus, who prevented her from getting close enough to assassinate him. Gamora did, however, assist Adam Warlock in his final battle against Magus.

When Magus was defeated, Gamora returned to her master, Thanos, and soon learned of his plan to destroy the universe as a sacrifice to Death. Horrified, she tried to slay Thanos with a dagger, but Thanos slew her instead. Adam Warlock found Gamora with one last spark of life remaining in her body and used his Soul Gem to absorb her consciousness.
Drax the Destroyer
Real estate agent Arthur Douglas, his wife Yvette, and daughter Heather, were driving across the Mojave Desert from Las Vegas to Los Angeles when a spaceship carrying the mad Titan named
Thanos
passed overhead on a surveillance mission to Earth. Wishing to keep his existence a secret, Thanos destroyed the automobile in case its passengers had seen his ship, and then landed to make certain they were dead. Satisfied that they were, Thanos left. Unknown to the Titan, his father
Mentor
had been monitoring his activities on Earth to examine his son's latest handiwork. Mentor discovered that Heather Douglas was still alive, and took her back to Titan to be raised. She later returned to Earth as
Moondragon
.
Mentor determined that the threat of his son Thanos could no longer be ignored and wanted to create a being of sufficient power to defeat Thanos. Enlisting the aid of his father
Chronos
, who millennia before had become a discorporate wraith, Mentor had Chronos seize the astral form (living consciousness) of Arthur Douglas before it had completely fled from Douglas's body. Chronos and Mentor then fashioned a humanoid body from the Earth's soil, granted it superhuman powers, and cast Douglas' spirit inside it. Thus they created the being who would become known as Drax the Destroyer.
Sometime later, Drax was contacted by his daughter Moondragon and invited to join her in her journey through space in search of knowledge. Drax accepted. The two rode aboard Moondragon's personal starship Sensia, and came upon the planet Ba Banis, a world of humanoid aliens caught in a vast civil war. Moondragon decided to used her mental powers to quell the conflict and then decided to set herself up as the world's goddess. Drax recognized that her ambitions were ignoble and so sent their ship to Earth with a holographic distress message. The Avengers responded and discovered Moondragon's world of mentally enforced tranquility. Freed by the
Avengers
from his daughter's mental domination, Drax advanced toward her, seeking to end her menace. In order to stop him, Moondragon mentally forced Drax's life essence to vacate his artificial body. Later, after subduing Moondragon and returning to Earth, the Avengers placed Drax's body inside Sensia and sent it into space programmed to self destruct. Without Drax's spirit inside it, Drax's body was destroyed when the Sensia exploded.Mentor blocked all of Drax's memories of his old life, instilling in him monomaniacal hate for Thanos. For years, Drax served as Thanos' nemesis, thwarting certain of the Titanian's plans, but never crushing Thanos himself. Thanos hired legions of alien mercenaries just to keep Drax away from him. Finally, in Thanos' campaign to possess the Cosmic Cube, Drax, in the company of the Avengers,
Captain Mar Vell
, and Moondragon, saw Thanos destroyed. Suddenly lacking a reason for existence, Drax wandered space in grim contemplation. By the time he learned that Thanos had managed to rematerialize himself, Thanos had once again been killed, this time by being permanently turned to stone. Drax, purposeless again, used Captain Mar-Vell as a scapegoat upon whom to vent his frustrations.
Several years later, when Thanos was resurrected by Mistress Death, Chronos chose to re-animate the Destroyer as well to again combat his mad grandson, and granted him with even greater physical power. However, Titan's God did not take the means of Drax's death into account, and the Destroyer's mind retained the damage done by Moondragon. Despite this setback, following Thanos' defeat and the subsequent breakup of the Infinity Gauntlet, Drax was chosen by
Adam Warlock
to safeguard the Power Gem as part of the
Infinity Watch
. Eventually, due to internal strife, the Watch fragmented and went their separate ways. Afterwards, Drax returned to Titan with Moondragon, who would successfully petition Kronos to restore Drax's mind to its former acuity, at the cost of some physical power. Thus, Drax was restored to his original condition.
A short time later, Drax was accused of the murder of
Elysius
and several other individuals. Warlock, along with
Gamora
,
Pip
, and
Genis
, tracked Drax down and subdued him in time to find that the real culprit was the re-animated corpse of the original Captain Marvel. Using his soul-gem, Warlock traced the being controlling the corpse...a creature within the Negative Zone known as Syphon who was using the Nega-Bands as a conduit. Felled by a backlash of psychic energy, Warlock was unable to stop the transfer of the Nega-Bands to the unconscious Drax, who flew off into space. Warlock then gathered his allies and pursued Drax, finding that Syphon was using Drax and the bands to rip a portal into the Negative Zone, a portal which threatened the structure of our Universe. Summoning all of his strength, Warlock yanked Drax free and removed the Nega-Bands, causing the portal to shrink. But, before the portal could completely close, Syphon yanked Warlock into the negative zone, and in front of the audience of
Blastarr
and
Annihilus
, Syphon took Warlocks gem, and used it to re-open the portal. Warlock recovered, and fought back, but without his soul-gem he had little chance of subduing both Blastarr and Annihilus before
Syphon
was successful. Fortunately, Drax arrived with Pip, Gamora, and Genis (who was once more possessor of the Nega-Bands) in tow. As his friends fought on, Warlock went on to damage Syphon's conqueror wheel, thus closing the portal once more. Syphon attempted to use the soul-gem to kill Warlock, but found his attack turned upon his own soul. He fought back long enough to flee his own body. Warlock again claimed the gem, and along with Drax and his other companions, returned to our Universe.
Angela
The woman known as Angela was an Angel living in Heaven in a distant cosmos who was bred into a warrior to battle the Hell's earthbound warriors known as
Spawns
created by the demon
Malebolgia
killing many over the centuries. In recent years Angela was assigned to destroy the latest Spawn of Malebolgia, resurrected soldier
Al Simmons
who had managed to break free from Malebolgia's control and became a hero of sorts
. She had a number of clashed with Simmons as well as other heroes that existed in that universe. Most recently, she seemingly perished while allied with Spawn during his final battle against Malebolgia
. A full account of Angela's activities in that universe can be found
here
.
After Angela was brought to Earth-616, she made her way towards Earth to take revenge on whoever brought her there. She appeared on the Guardians of the Galaxy's Earth signal. Gamora intercepted the call and attacked Angela.
The rest of the Guardians managed to defeat her, and she was captured. After an interrogation where it was revealed her nature, Angela claimed she was only heading to Earth because she wanted to see it by herself. The Guardians realized they actually incited the fight, freed Angela and accompained her to explore Earth.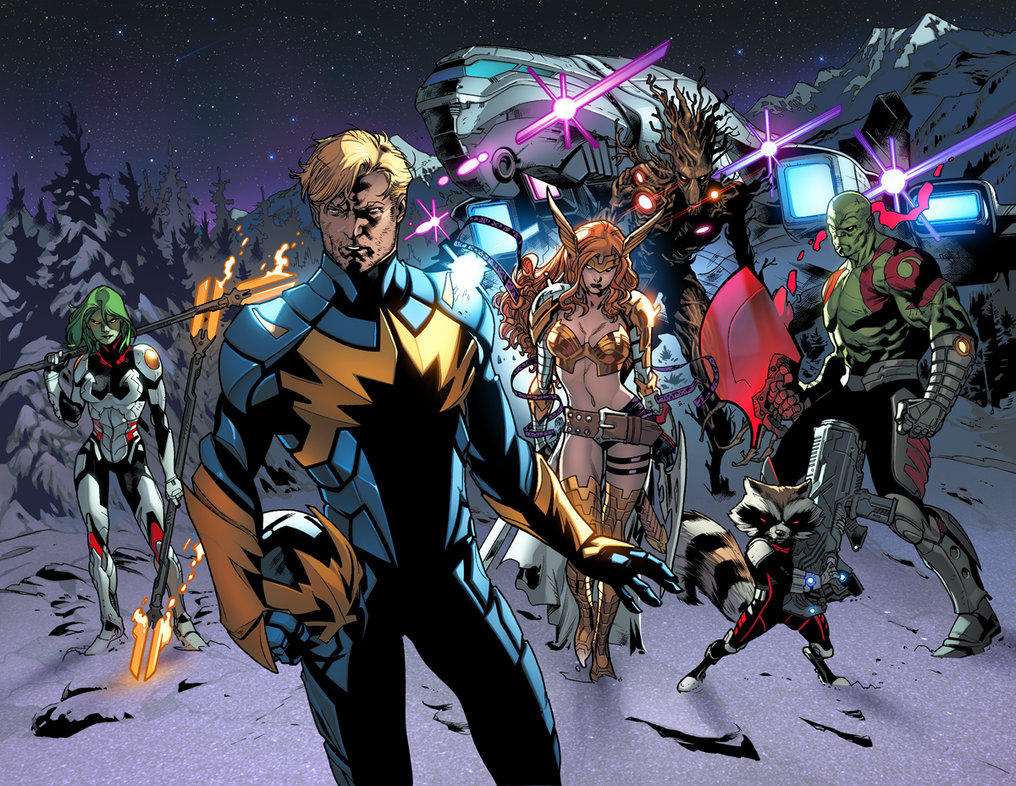 And this is the story of the Guardians of the Galaxy I hope you enjoyed it...
Thanks for reading...
George...
Movie Trailer: