When I was 15 by mistake i found in a very old book shop a very strange graphic novel.

I have always been comic fan with many favorites superheroes and I was familiar with comic books.

But this was something different...

From the first moment I realised that this isn't a comic book like the other that I have read till then.

It's was weird...dark, without colorful pics and with very strange characters in the front page.

I asked the owner but he didn't know to tell me anything about this.

I bought the graphic novel and on my way back home I was looking into the pages and then... just started a journey that till today I continue enjoying to be part of it...



The WatchMen...

Who watches the Watchmen?

At this point, who doesn't? It's sold over a million copies and is the first thing people mention when talking comics–for-adults. It's the only graphic novel to make Time's 100 Best Novels list, one of Entertainment Weekly's Top 50 novels of the past 25 years, and has made fans of everyone from film directors Zack Snyder and Darren Aronofsky to the writers on Lost.

Watchmen takes place in an alternate world where the mere presence of American superheroes changed history: The US won the Vietnam War, Nixon is still president, and the cold war is in full effect. It begins with a murder-mystery before unfolding into a planet-altering conspiracy: When a retired hero is killed, his former teammates must investigate. The conspiracy they uncover will entwine their secret traumas and twisted psychologies, ultimately asking where the fine line is drawn between heroes and villains?

Popularly cited as the point where comics came of age, Watchmen's sophisticated take on superheroes has been universally acclaimed for its psychological depth and realism. It's slowly and inevitably become it's own franchise, spawning a movie, video game, and the Before Watchmen prequel comics.
The Characters: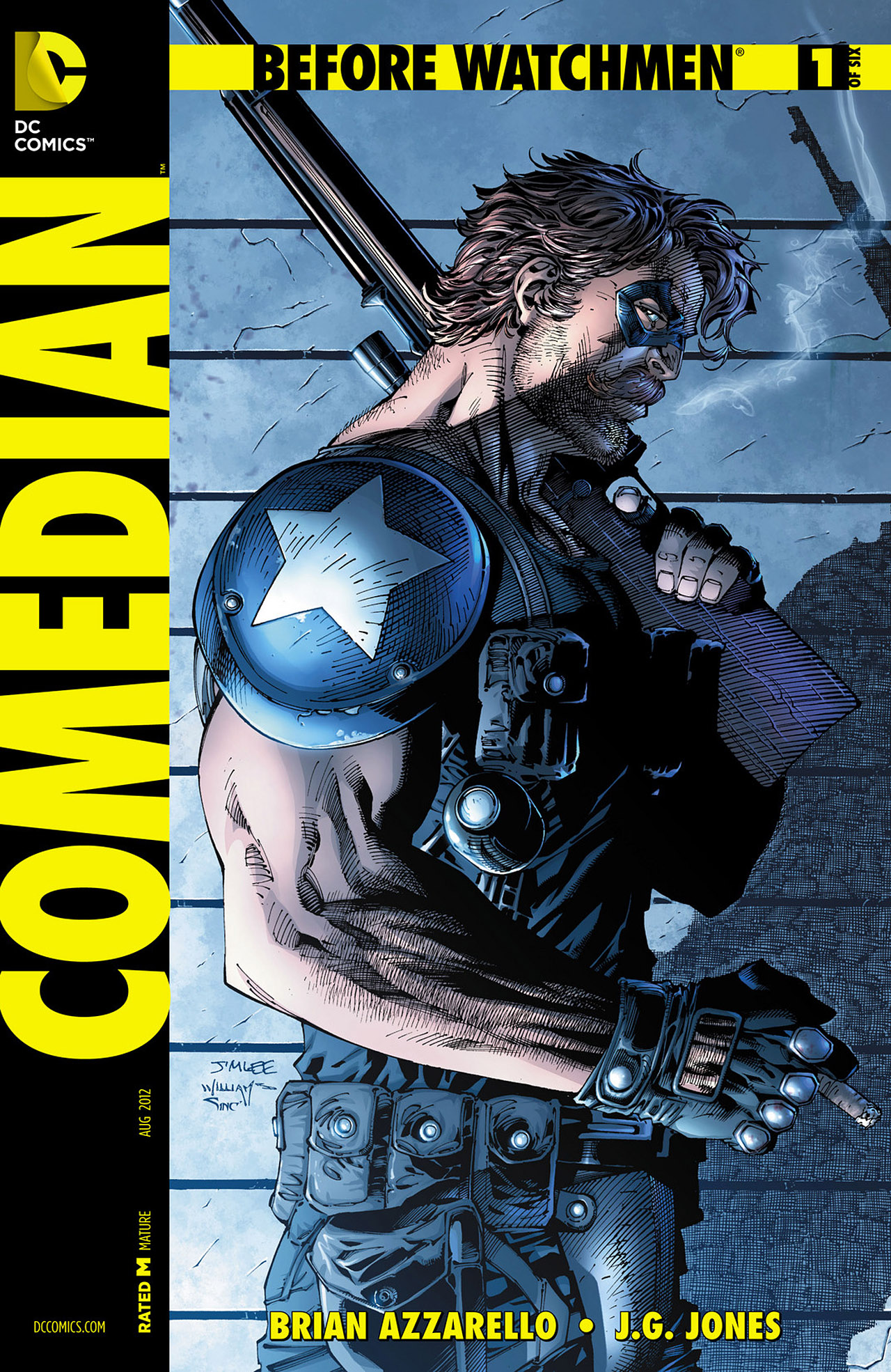 Eddie Blake/The Comedian

Eddie Blake had the longest crime fighting career out of all the costumed vigilantes. Edward Blake first started out as a crime fighter in the 1940's as The Comedian.
Minuteman

He was part of a group called the Minutemen, a team of eight masked crime fighting vigilantes. After a photo shoot for the Minutemen, The Comedian walked into a room to find Silk Spectre changing. He then attempted to rape her but was then stopped by Hooded Justice, who then proceeded beat Blake in a rage. The Minutemen then banned him from the group.

After being stabbed in the chest in 1941, he changed his green and purple costume to tough leather armor. Soon after the Minutemen disbanded in the 1950's, Blake was called to testify for the disappearance and killing of Hooded Justice, but he refused to testify. Nothing was ever proved against him.
Crimebusters

In the late 60's Blake joined a group called the Crimebusters, led by Captain Metropolis. However, their first meeting did not last long after the Comedian set fire to one of Metropolis's display and told everybody that the group was a joke.

After the the Keene Act in the 70's, the Comedian joined the fight in Vietnam with Dr. Manhattan, receiving a disfiguring scar on the left side of his face at war's end by an enraged Vietnamese woman he'd impregnated. He shot her in retaliation, telling Doctor Manhattan (who had watched the ordeal) that, despite the numerous chances at preventing the entire discretion; he did nothing.

Returning home, he assisted Nite Owl in attempting to quell a riot, only to become enraged after someone hits him in the head with a piece of debris, opening fire on the crowd with rubber bullets. After the riot disperses, Nite Owl questions his brutal choice of action.
Death

In October of 1985, he visited Edgar Jacobi a.k.a. Moloch, his former arch-enemy, while he was drunk. Sobbing, he tells him that everything in life is a joke before departing in an inebriated stupor. A few days later, he is attacked in his apartment; being tossed around and beaten before being thrown from the window and plummeting to his death below.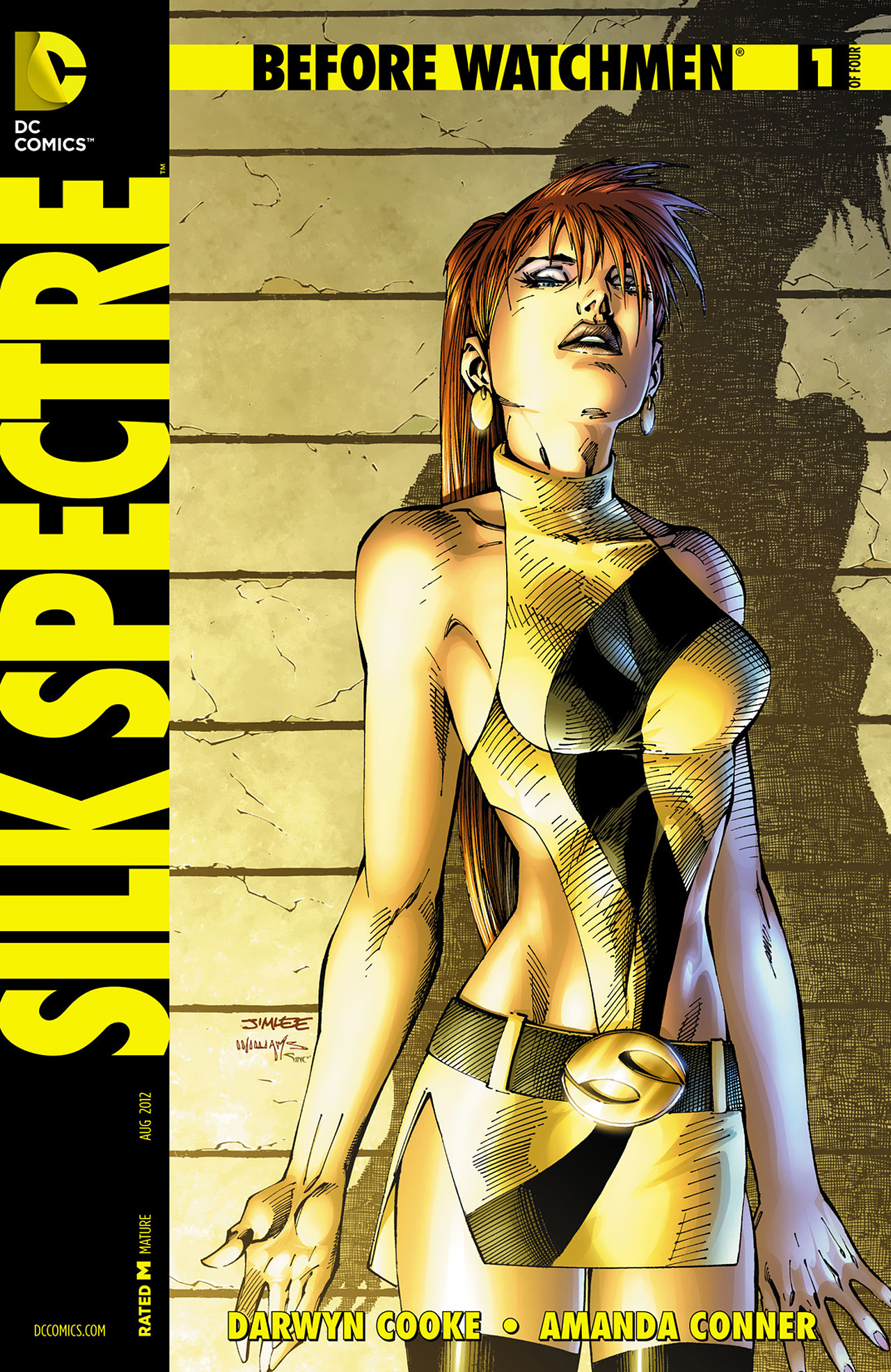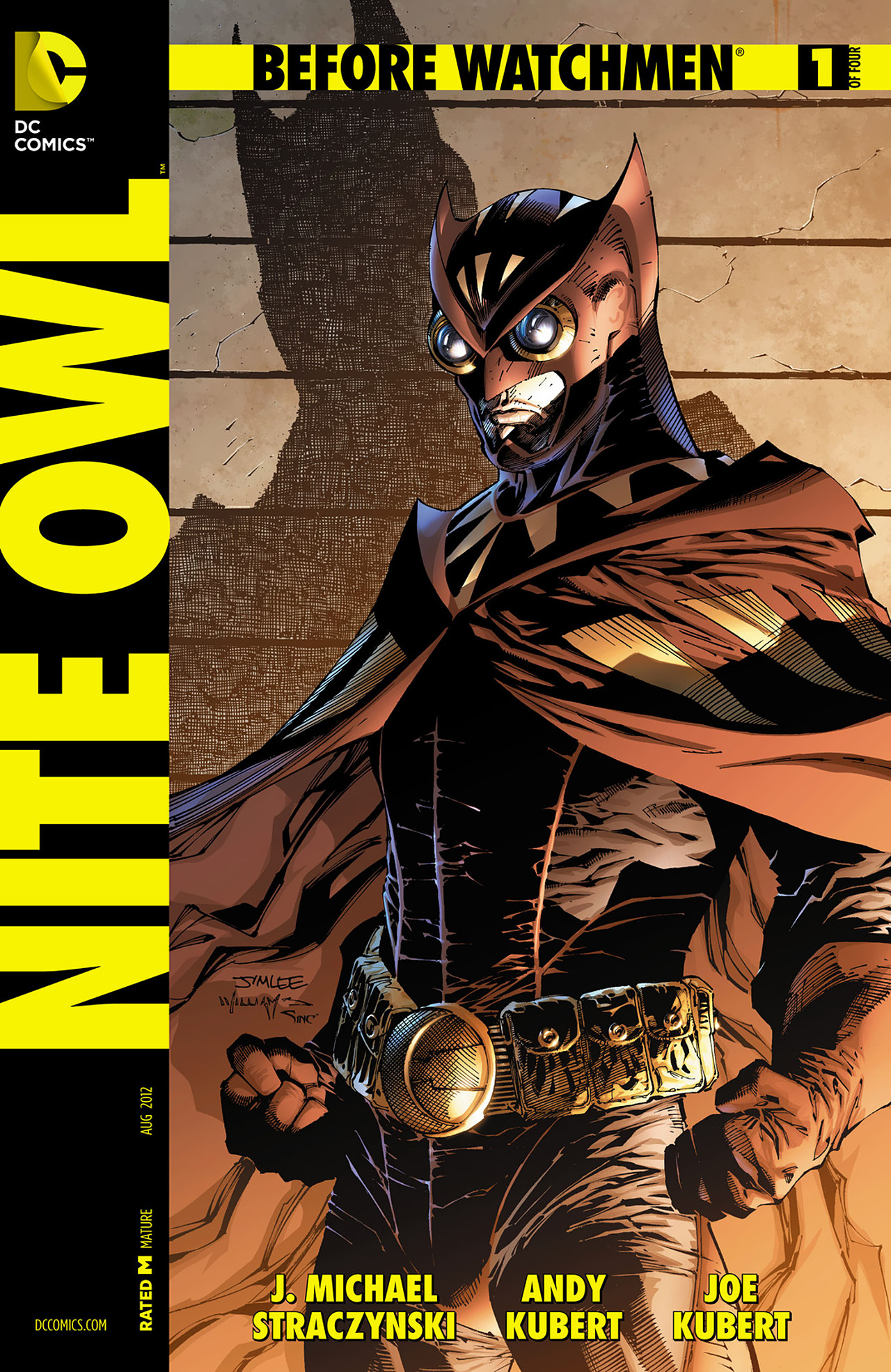 Daniel Dreiberg/Nite-Owl
Born in 1945, Daniel Dreiberg was an admire of birds, gadgets, and of superheroes. Dreiberg's father was a banker who left him a large inheritance, which he used to design and build his crime-fighting gear. Hollis Mason, the original Nite Owl, was his hero and when he retired, Dan wrote to Mason, asking if he could carry on his name. Upon looking at his gear, Mason was too impressed to refuse, and gave Dan the greenlight to start fighting crime in the 1960s. From then, the two men became friends, and met every Saturday at Hollis' house.

In 1965, Dreiberg (as Nite Owl) successfully debuted and teamed up with fellow costumed adventurer Rorschach to take on organized crime. He supported the idea of costumed vigilantes forming a group to fight crime strategically, but Rorschach and the Comedian rejected the idea. Having already come to understand that his expensive activities were too limited in scope to make any real difference, Dreiberg retired after the passing of the Keene Act on August 3, 1977, although in 1985 he seems to regret his decision to give up crime fighting. Rorschach would later say regarding his retirement, "No staying power." When not fighting crime, Dreiberg mastered in aeronautics and zoology at Harvard University, contributing scholarly articles to ornithological journals after his retirement in 1977.

Dreiberg becomes romantically entangled with the second Silk Spectre, Laurie Juspeczyk, after she leaves Doctor Manhattan. He returns to vigilantism along with her, beginning with a heartening night out in costume in which they successfully save the occupants of a burning building. The excitement of aiding the residents awakens Dreiberg's sexual feelings for Laurie and the two make passionate love following the rescue. Dan later came to realize of Rorschach's conspiracy after Doctor Manhattan's self-exile, Adrian Veidt's attempted assassination, and Rorschach's arrest. He later convinces Laurie into helping break Rorschach out of prison in an attempt to stop Ozymandias scheme to "save the world from itself." Unfortunately, the freeing of Rorschach indirectly results in the brutal murder of Hollis Mason, which Dan learns of only when he and Rorschach go to interrogate suspects. Upon learning of Mason's death, Dreiberg becomes violent, attacking the informer and loudly swearing vengeance against Mason's killers with such ferocity that Rorschach has to restrain him.

Dan and Rorschach travel to Ozymandias' Antarctic fortress. They battle with and are swiftly defeated by Ozymandias, who reveals his plan to unleash a telepathic monstrosity on New York City that will release massive psychic waves that will kill half the city. Nite Owl expresses the desire to stop him and is told that the events have already occurred. Millions are dead, and the world's nations agree to work together to combat this new "extraterrestrial threat". Reluctantly, Dan and the recently arrived Dr. Manhattan and Laurie Juspeczyk agree to keep this secret for the sake of world peace.

The morally absolute Rorschach leaves, attempting to take Dan's vehicle back to civilization to tell the world. Unseen by the others, Doctor Manhattan kills Rorschach to stop him. Dan and Laurie are offered hospitality by Ozymandias, which they accept. Before leaving for another galaxy, Manhattan seems satisfied and happy at the sight of Laurie now in a relationship with Dan.

Almost to the end of the 80's, Dan and Laurie took their new identities of Sam and Sandra Hollis (in homage to the late Mason). They travel to California and make a brief visit to the former Silk Spectre; in which Laurie reconciles with her mother over the discovery that the Comedian was her father. Promising to visit again soon, they leave with the intent of continuing their adventures in crime-fighting.

Powers and Abilities

Powers

This individual does not possess any superhuman capabilities.


Abilities
Genius Level Intellect
Gifted Inventor: Dan was the creator of many inventions and crime-fighting technologies, like his "Owlship" ship, and Night Owl weapons.
Skilled Acrobat: Dan was an accomplished acrobat, who more often than not, utilized this greatly into his hand-to-hand fighting style.
Martial Arts: Had studied with several martial arts masters, and can out-fight just about any group of thugs or criminals with his fighting skills alone.
Strength level

Dan originally had the strength of a man his height and weight who engaged in regular intensive physical exercise. Now after years of retirement his skills have greatly decreased. Despite his decrease, he is still able to hold his own in a fight and can take on multiple opponents with ease.
William Brady/Dollar Bill
An excellent college athlete from Kansas University, Dollar Bill was employed as a masked vigilante for one of the major banks in New York City, an in-house superhero. His name and costume was designed specially to represent the bank.
Minutemen

During the 1940s, Dollar Bill was one of masked vigilantes asked to join The Minutemen. He had a variety of adventurers with the team until the time of his death.
Death

In 1947, while he was trying to stop a bank robbery, his cape was caught in one of the bank's revolving doors; caught and helpless he was then shot in the head at close range ending his 11 year masked career and life.

Powers and Abilities
Abilities

Hand-to-Hand Combat (Basic): Although never formally trained he gained the ability to fight hard through years of experience.
Wrestling: Bill was an accomplished wrestler, one of his many athletic achievements.
Nelson Gardner/Captain Metropolis


As a child, Nelson Gardner was sickly and asthmatic, but years of training allowed him to get past his condition and eventually played football in college before joining the U.S. Marines. He later adopted the Captain Metropolis persona, and, using the skills he acquired in the military, attempted to eradicate organized crime in urban areas.
Minutemen

In the fall of 1940, he founded a superhero team called the Minutemen which was composed of Silk Spectre, Hooded Justice, the Silhouette, Nite Owl, the Comedian, Mothman and Dollar Bill.

It is implied that he had a relationship with fellow gay teammate Hooded Justice, yet this information was unknown to the public. This revelation may explain his mysterious departure from the Marines. Judging by a letter written by Silk Spectre's agent, Larry Schexnayder, it appeared that Metropolis was the submissive partner in the relationship while Hooded Justice was the more dominant partner, with Metropolis often calling Larry and complaining about the arguments he was having with Hooded Justice.

In 1946, a newspaper expose revealed that Silhouette's personal doctor was also, in fact, her lover. Fearing further scrutiny, Metropolis and Hooded Justice were goaded by Schexnayder into voting for her expulsion from the team. Dollar Bill and Silk Spectre voted along with them, though Nite-Owl and Mothman, who had both known about the affair for years, voted against. Much to the team's horror, Silhouette and her lover were killed six weeks later by an enemy who called himself the Liquidator. The ensuing search was poorly executed; the Liquidator had hidden himself somewhere in theTenderloin, Manhattan's notorious red-light district, and Metropolis and Hooded Justice opted to use the occasion to burnish their credentials as upstanding citizens by pulling vice busts. Eventually, Silk Spectre found the Liquidator and killed him, but was so disgusted by Metropolis' lack of initiative that she left him and Hooded Justice to clean up the mess. Shortly afterwards, she quit the team.

Unhappy with the way the team was more concerned about social appearances than actual crime fighting, the Minutemen were eventually disbanded by Captain Metropolis himself in 1949. Sometime later, the team

After Minutemen
By the 1960s, he and Hooded Justice had broken up, and he was now seeing a man named Nobert Veldon. When they learned that Hollis Mason's impending autobiography was going to reveal details of Gardner's relationship with Hood Justice, an angry Veldon showed up at Mason's shop and threatened to sue him, claiming that Gardner had become suicidal.
Crimebusters

In 1966, Captain Metropolis attempted to form another team, the Crimebusters, to which he invited Rorschach, Nite Owl II, Silk Spectre II, Dr. Manhattan, Ozymandias and the Comedian, but his plans were old-fashioned, prefaced in a large part upon the notion that ethnic minorities, particularly blacks and Hispanics, were inherently lawless.

When he spoke at the meeting of tackling the "social ills" of America, the Comedian mocked him for wanting to "dress up" and play "cowboys and Indians", and further accused the older hero of trying to form the Crimebusters as a means of seeking personal glory, which Metropolis insisted wasn't true; as the would be members filed out, Metropolis begged them not to leave, telling them that someone had to "save the world." The crime display that he worked so hard on was burned and destroyed by the Comedian. Also, about this time, he was making various racist statements about Hispanics and African-Americans, which contributed to the public's already growing distaste for superheroes. By 1974, Nelson tragically died in an automobile accident in which he was decapitated.

Powers and Abilities

Powers
This individual does not possess any superhuman capabilities.

Abilities

Hand-to-Hand Combat (Basic)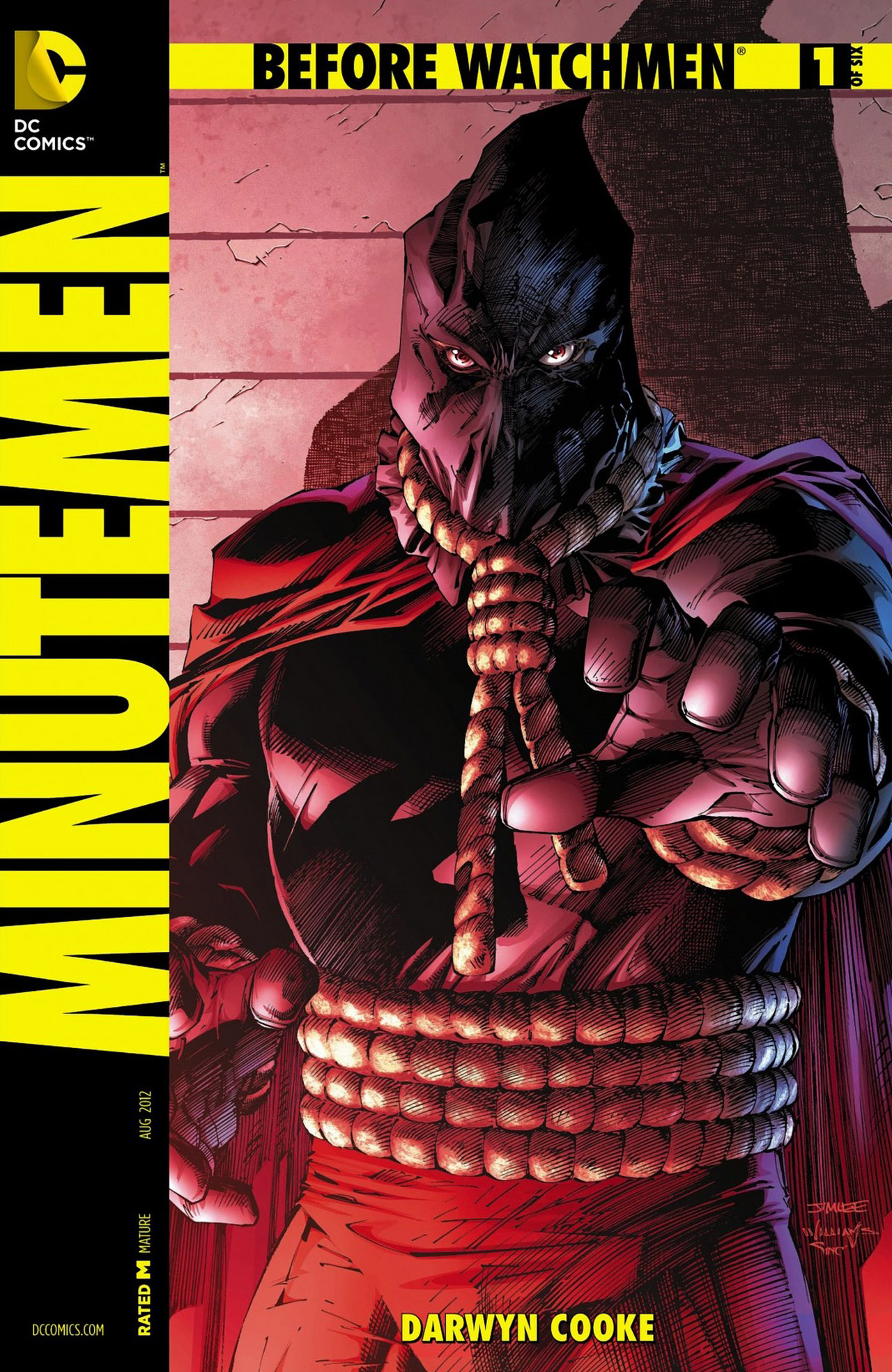 Hooded Justice/?
Hooded Justice was the first masked vigilante. His true identity was unknown to his fellow
Minutemen
, but
Hollis Mason
suspected it to be circus artist Rolf Müller.
Minutemen
Hooded Justice was homosexual and in love with
Captain Metropolis
. But to hide it, he feigned love for
Silk Spectre
and even saved her from
the Comedian's
attacks.
Hooded Justice was a brutal vigilante who would beat criminals to a bloody pulp, this was suggested by the Comedian to be a part of his sexual fetishes. His controversial talent for brutal treatment made him infamous in local newspapers.
Retirement
In 1955, he mysteriously disappeared. Mason reasoned that when the "House of Un-American Activities Committee" began to demand the unmasking of all costumed adventurers Hooded Justice did not wish to and resigned from this duty. Mason noted the similarities of Hooded Justice's history with that of a circus entertainer "Rolf Müller", suspecting that they were in fact the same person.
Powers and Abilities
Powers
This individual does not possess any superhuman capabilities.
Hand-to-Hand Combat (Basic)
Byron Lewis/Mothman

Byron Lewis had a privileged upbringing and sought adventure around the world. When he returned home from a trip to Africa he saw that his country had been taken storm by the crime fighters. Seeking to help the less fortunate and fight oppression and corruption he decided his thirst for adventure and heroism could be sated by becoming the Mothman.

Due to his family's money and inventive nature he created special wings that allowed him to glide through the air. However, years of dangerous adventure and crime fighting was taking it's toll on the man and he became addicted to liniment and alcohol to cope with the pain.

Minutemen

Despite the pain and suffering and faulty equipment, he joined the Minutemen to do good on a higher level and had many adventures with them over the years. He was the second member to leave the group before it became officially defunct; he left due to his increasing mental instability.

Retirement

At the height of the McCarthy era in the 1950s, Lewis came under pressure of the House of Un-American Committee trials due to previously befriending to left-wing friends during his student days. Because of the investigations, Lewis was committed into a mental asylum in Maine in 1962. He was briefly released for the Minutemen's reunion, but was still in a mentally fragile wreck.

Powers and Abilities
Abilities

Genius Level Intellect



Adrian Veidt/Ozymandias

Adrian Veidt was born in 1939, the son of rich immigrant parents, he was found to be incredibly intelligent. After his parents and his teachers became suspicious of his grades, he successfully hid his intelligence by deliberately achieving average grades. After his parents' deaths, he inherited their substantial fortune at age 17, but chose to give it all to charity. Veidt then embarked on a vision quest, following the route of Alexander the Great - a childhood idol - throughout the Mediterranean, Asia Minor, and former ancient Persia.

It was during this journey that he consumed a ball of hashish and decided to become a superhero. Returning to America, he named himself "Ozymandias" and became a costumed vigilante, focusing particularly on organized crime and earning a reputation as "the smartest man on the planet." However, his own cases robbed him of the idealistic belief that battling crime would truly lessen evil and suffering in the world. This was brought to a head when an abortive attempt to organize a new superhero team was disrupted by the Comedian, who noted in his brutally apt way exactly how petty the doings of the costumed heroes were in a world where the threat of nuclear war hung overhead, and how powerless they were to stop it. Veidt was inspired to do just that.

In 1975, two years before vigilante crime fighters (superheroes) are banned by the "Keene Act," Veidt retires from super heroism, marketing his image for money. This helps bankroll his scheme of creating a catastrophic event and deceive the world into uniting against a common enemy, in Veidt's case, a horrific alien invasion. To that end, he employed geneticists to clone the stolen brain of a murdered psychic and use it to create such a creature with a group of artists and creative personnel to help create the illusion. He also invents a limited form of teleportation based in part on the studies of (and studies by) Dr. Manhattan. Upon completion, he arranged the murder of all of his accomplices to maintain the illusion.

To prevent Dr. Manhattan from interfering, he hired old associates of the superhero and secretly exposed them to radiation to induce terminal cancer in them, then engineered a rumor that Manhattan was responsible, causing Dr. Manhattan to exile himself to Mars.

When the Comedian inadvertently learned of Veidt's plans, Veidt personally murdered him as well. The story of Watchmen begins several hours after the killing, with police detectives investigating the crime.

The death of the Comedian caught the attention of Rorschach, who investigated the crime and mistakenly theorized that there existed a conspiracy to murder masked adventurers. Although Veidt arranged an assassination attempt on himself to throw off suspicion, he framed Rorschach on a murder charge to get him out of the way. In addition, Veidt started the accusations against Dr. Manhattan to drive him off the planet and set off a chain of events that threaten to start a global war.

Unknown to him, the current Nite Owl and Silk Spectre grew to believe that Rorschach's investigation had merit and sprung him from prison to investigate the matter. In addition, Dr. Manhattan took Silk Spectre to Mars where she convinced him to return to Earth.

However, the superheroes were unable to stop the fulfillment of Veidt's scheme, which led to the deaths of over three million people in New York City. The world governments fell for this ruse, and agreed to a union to oppose this new alien menace. Seeing as how Veidt's plot had the desired effect of uniting the nations of the world and averting a possible nuclear war, Doctor Manhattan, Nite-Owl and Silk Spectre agree to keep silent about what they know, as it would only plunge the world back to the brink of disaster. Rorschach alone refuses to keep silent, telling Dr. Manhattan that he will never compromise, not even in the face of Armageddon, Dr. Manhattan must kill Rorschach before he can tell anybody what he knows, and does so. When Veidt asks the precognitive Dr. Manhattan for verification that he did "the right thing" and that his plans "worked out in the end," Dr. Manhattan can only reply that nothing ever ends, leaving Veidt once again in doubt as to whether or not his plan was successful.

Powers and Abilities
Abilities

Genius Level Intellect: Veidt is referred to as the smartest man alive. His mental performance allows his mind to operate in the most efficient and rapid manner possible. One manifestation of this is his tactical genius; the ability to quickly process multiple information streams and rapidly respond to changing tactical situations. He is capable of creating numerous technologies to counter Dr. Manhattan. Veidt is able to view a wall filled floor to ceiling with television screens, each showing a different image he is able to pay attention to each one simultaneously.
Eidetic Memory: Veidt also possesses an eidetic memory, meaning that he never forgets anything and has perfect recall.
Historiography
Mechanical Engineering
Multilingualism: Veidt is fluent in English, Turkish, German, Russian and various other languages not shown.
Physics
Tactical Analysis: He had been widely considered one of, if not the greatest, tacticians on the planet. He is able to create a vast billion dollar International corporation with links to legitimate and criminal organization, all with the single purpose to bring world peace via the threat of a fake alien invasion to unite the nations to bring about world peace.
Martial Arts: Veidt is an expert in hand-to-hand combat being very skilled in multiple martial arts. Fighting skills sufficient to hold off both Nite-Owl and Rorschach at the same time.
Acrobatics: His years of training and experience even at age 40 have made him an expert acrobat.
These are the Watchmen guys
A superhero team that is different and unique...
Thanks for reading...
George...